News
Our insights ab

o

ut the COVID-19 spreading pr

o

cess and changes in m

o

bility behavior
Our knowledge and data analyses support fighting against the virus and help strengthen the digital infrastructure.
2020/05/15 - With our crowdsourcing data, we can comprehend the flow of movement, evaluate if and how people change their mobility behavior as well as their app usage in times of COVID-19.

Hakan Ekmen, CEO Telecommunication at umlaut, says: "We all see the tragedies in US, Spain, Great Britain, Italy and all the other countries around the world. Our thoughts are with all affected people and their families and friends. We thank all the helpers, who do their utmost to keep us alive and who work hard to keep our daily live as normal as possible. Based on our crowd data, we are figuring out the COVID-19 impact on behavioral change of smartphone users".

Since the beginning of the COVID-19 crisis, we have been conducting analyses on the basis of anonymized umlaut crowd data.
Understanding the flow of movement
Our latest crowd data analysis shows how lockdown measures in other countries drove Turks back to their homeland - and created a dangerous rush of infection numbers that brought the pandemic into the country in the first place – as you can see in the video below and in the article of DIE WELT, 2020/05/10 – "Wie die Türkei den umgekehrten Ischgl-Effekt provozierte"

In March, we started our analyses, we looked at the crowd data of mobile phones who were at the infection hotspot Ischgl in Austria. We saw the flow of movement starting in Ischgl then moving to places in Germany, Austria and Switzerland which were the next to show heavy infection rates. Some lead media outlets have taken notice of our analysis. Example: DIE WELT, 2020/03/29 - "So bahnte sich das Virus seinen Weg von Ischgl nach Deutschland"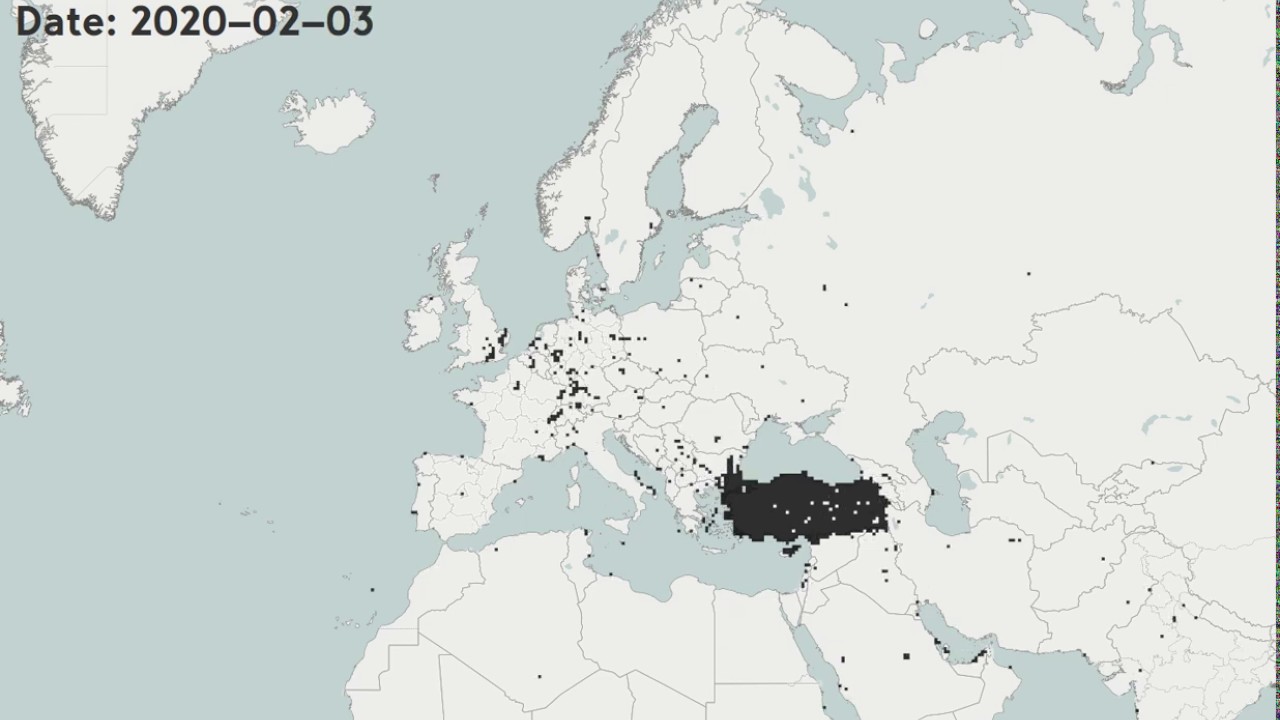 Analysing the changes of mobility behavior
Also, we continuously evaluate the changes of mobility behavior. Among others, we have analyzed selected cities of Europe and the US – like Madrid, Milan and Berlin, Los Angelos, New York and Washington – with view to the development and change in behavior such as distance moved per day, average action radius and mobility share.

Our heatmaps of data samples, number of users, velocity, mobile traffic and WIFI traffic enable us to deduce the behavioral change of people. After lockdown regulations, we concluded that the user density and outdoor duration of stay immediately and significantly declined while the moving speed on many roads increased due to less traffic and free highways. A few weeks later, at the end of April, our heatmaps showed that the action radius and distance moved per day increased again, also, the user count in the cities started to return to normal again. In the US, after the outbreak of COVID-19, we have observed around 12% increase in WIFI time share and 7% increase in WIFI traffic share nationwide while mobile time and traffic share have decreased and maintain a new level ever since. Also, VoWIFI has increased in share for all 4 big US carriers. Again, leading media outlets have taken notice of what we do.
Example: RCR Wireless, 2020/03/25, "umlaut analyzes network behavior changes as COVID-19 spreads"


App usage reflects that communication is taking a virtual form
Also, we analyze the app usage in selected USA Metropolitan Statistical Areas (MSA) –business apps (Cisco Website, Google Hangout, Microsoft Teams and Zoom), communication apps (Facebook Messenger, Google Chrome, Instagram, Skype and WhatsApp), entertainment apps (YouTube, Netflix, Amazon Prime, Disney+ and Google Play), education apps (Canvas Student, ClassDojo, Duolingo, Google Classroom, Google Hangout, Kahoot, Remind, Schoology and Udemy) and shopping apps (AMAZON, Wish, Walmart and eBay).

We have observed how the app usage has changed in times of COVID-19: People resort to social apps more frequently to stay connected and complete their school or work assignments online. With the COVID-19 outbreak, communication is taking a virtual form.

Completely anonymous data
Containing onwards, we will observe and analyze how mobility develops - now, that contact and curfew measures are being loosened again. Whilst we can analyze what changes and whether there are local differences, we do not identify individual users. It is important to understand that we work with completely anonymous data. We are able to analyze what happened where, but not who was involved.

With our approach, we can contribute a great deal of important information in order to manage and analyze the COVID-19 crisis thus support political readjustments, help prepare for future pandemics and strengthen the digital infrastructure where necessary.
Going forward: COVID-19 app will be crucial
We believe that a COVID-19 app will be crucial to fight the Coronavirus and get back our freedom of movement. At present, we are conducting attenuation tests to develop distance algorithms that will allow the app to identify infectious contacts. The ability to warn relevant contacts of infected people will be an essential part of our journey back to normality. Here again, it is crucial that data security is fully obeyed when implementing the app.
Get in touch with our experts!
Hakan Ekmen
CEO Telecommunication